Home / Ideas / Project Managers & Event Coordinators: One in the Same?
Project Managers & Event Coordinators: One in the Same?
Many Key Traits are Essential for Project Manager's Success
As the oldest daughter of three, I was always seen by my parents as the most responsible. Whether that's true or not, my job of managing timelines, resources and budgets seems awfully fitting for me and something I truly enjoy.
And while responsibility is a trait important to many positions, including project managers, there are other common traits that I see in myself and fellow project managers that point to us as some of the best individuals for this role.
Valued Traits of a Project Manager
We do a lot of training and continuing education as a team here at Kinetic. We love learning and applying what we've learned, whether it's for personal or professional development. Through training, we've discovered a lot about why we behave and think the way we do. For example, after recently taking the CliftonStrengths Assessment, I found my top strengths to be responsibility and consistency.
Project managers (PMs) value consistency, especially as it relates to processes that can be applied and tracked. We are using our project management software throughout the day to update and monitor projects. Consistency as a strength is a valuable trait for PMs.
Responsibility relates to PMs in how we take ownership of projects from start to finish. It's our job to set up, push forward and close out every project. Of course, there are many more key players involved along the way, too!
History of Planning
While these traits are a part of me, I also bring other pertinent experiences to my position as a PM. Like the other project managers at the agency, I've held previous positions in which my main task was to keep track of the details.
Perhaps the most exciting and demanding of all my experiences are my years working as a wedding coordinator in Austin, Texas. At that time in my career, all the planning, scheduling and tracking details was a new experience. I soon realized there is SO much more that goes into planning a large event than I thought.
Event-Planning Success
When people are paying a pretty penny for a special event, they want and expect it to go off without a hitch. A successful event coordinator must be able to get all the little details and people in place through lots of planning ahead of time. And that planning should also include a backup and the ability to troubleshoot along the way as needed (preferably without the client even knowing there was a problem, to begin with).
Projects and Events
To me, projects are like the weddings and events I've had the privilege of planning. Each project is unique, valued by the client and is something they're invested in. I'm grateful for my event experiences — including the flops, such as cakes smashing into the back of vans before delivery and drunken brides who need to leave the party before the guests.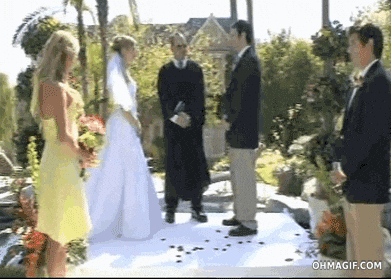 All my experiences have been valuable to my role as a project manager with Kinetic. I believe we have the best team full of individuals who have the traits, experiences and grit to successfully deliver on any project or event that comes our way.